My first morning in Chicago, I found myself inside a giant silver bean.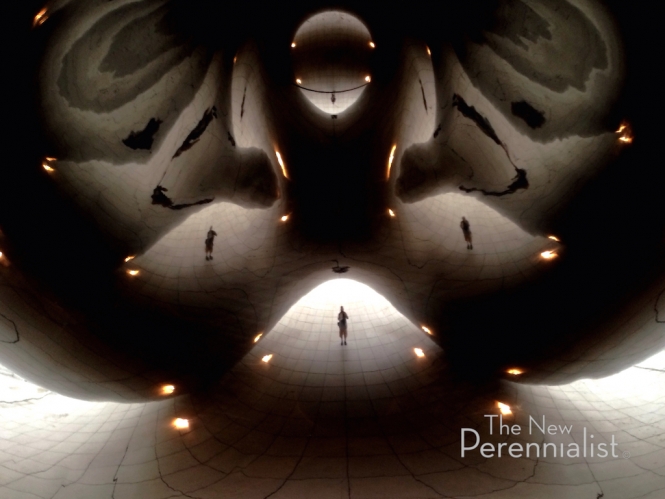 Actually, it was a rare moment of solitude inside Anish Kapoor's Cloud Gate on my way to see Piet Oudolf and his urban masterpiece, The Lurie Garden.
Not just any public garden, the Lurie is built atop a massive parking garage roof, transformed by architectural sleight-of-hand into a slice of incandescent prairie in the heart of the downtown's Millennium Park.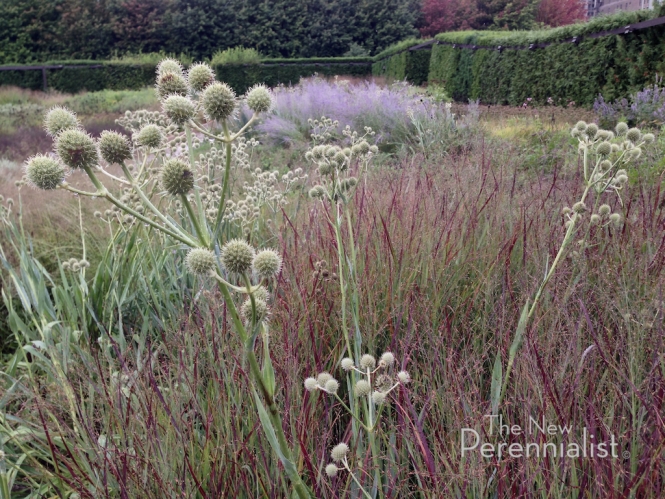 Plant freaks blew into town from all over to join native Chicagoans in a four-day celebration of the Lurie and the people who created it.
For me, it was my first time seeing this quintessential New Perennial garden.
Among the week's highlights, we were treated to a preview screening of Thomas Piper's new documentary Fall Winter Spring Summer Fall: Five Seasons with Piet Oudolf, public walking tours of the garden with its designer and landscape architect, and a creative roundtable on the last night to contemplate the Lurie's past, present and future.
Fellow Dutch Dreamers and friends Adam Woodruff and Austin Eischeid, also made the trip – unofficially representing the next generation of planting designers.
And so, it was gardens by day and Chicago's rave-worthy food scene by night. Stellar architecture. Street corner jazz. And perhaps a beer or two.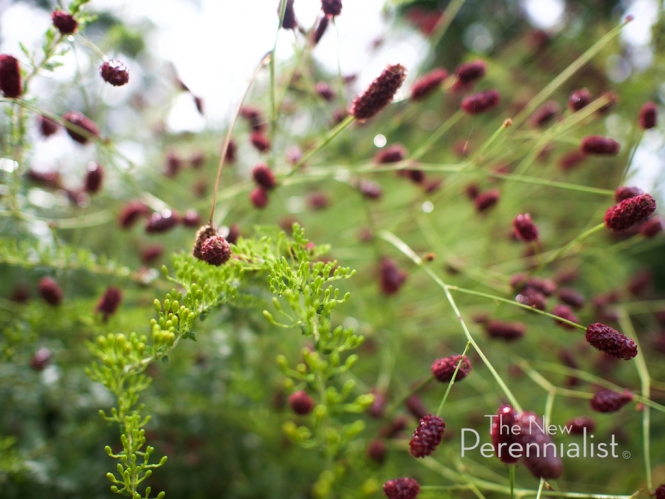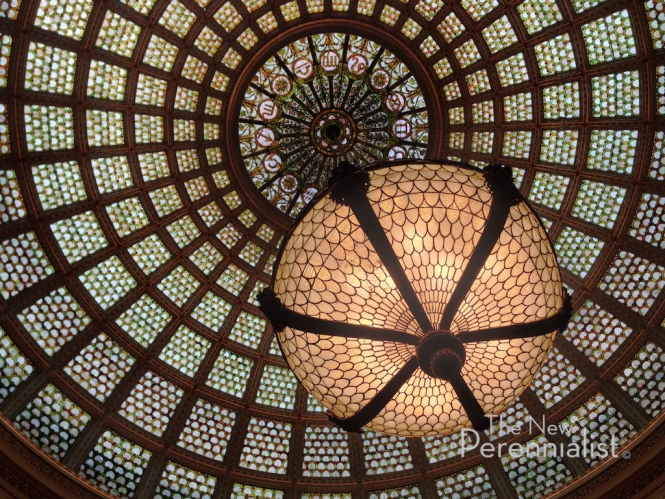 A critical review
The week started out with an intensive review of the garden by the creative principals. Pictured below from left to right, we can see plantsman Roy Diblik and Piet, Head Horticulturist Laura Ekasetya, Landscape Architect Shannon Nichol of Gustafson Guthrie Nichol (GGN), and Scott Stewart, the Lurie's Director.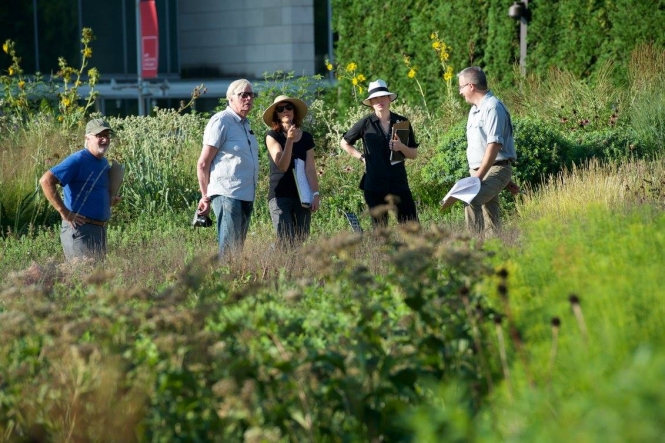 Since opening in 2004, the Lurie invites this core team back every two years to evaluate the state of the garden and how it's maturing. It's a biennial opportunity to assess what's working in the plantings, address problem areas, and propose new solutions, always with a mind as to how each part relates to the whole.
Horticulturist Laura notes down any new plants to order, many of which will need to be propagated directly from seed by a grower like Roy.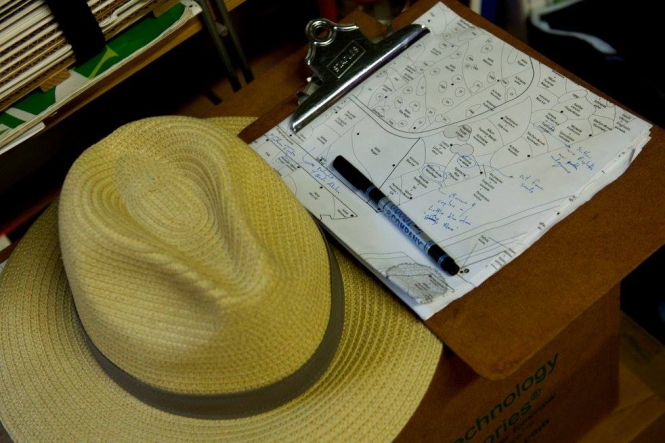 The review underscores the Lurie's deep commitment to run and maintain a top-tier public garden, a vision made possible by a hefty private endowment.
As a nice touch, the admission to the garden is free.
Urbs in Horto
If Chicago's motto is City in a Garden, then Millennium Park is the mirrored reflection.
Between the latticed silver hoops of Frank Gehry's Pritzker Pavilion and Anish Kapoor's Cloud Gate, the park is a 24.5-acre marvel of urban greenspace and public art with the Lurie Garden as its 5-acre wild jewel in the crown.
To the casual observer, the Lurie appears to be a naturalistic paradise spontaneously growing in downtown Chicago.
In reality, that is a magnificent illusion.
Opened to the public in 2004, the garden is actually a green roof project of immense scale (including the park as well): the result of an inspired collaboration between Seattle-based architects GGN, local partners, and Piet Oudolf who created the planting design in his breakthrough American project.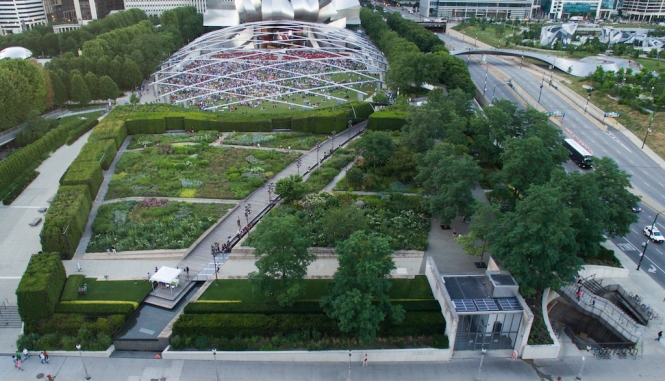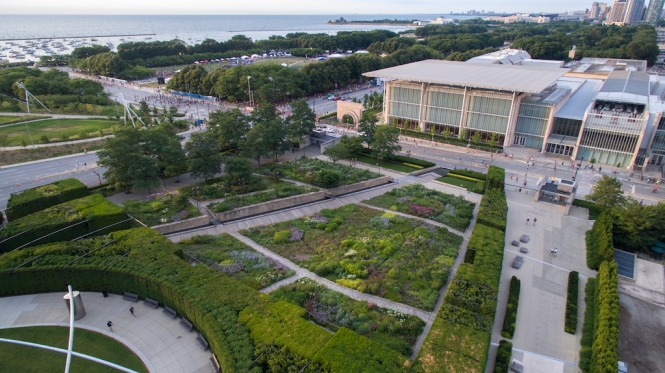 Moment of arrival
My own introduction to the Lurie was unforgettable.
After a late first night out with the gang, I woke up extra early to meet Piet at 7 a.m. to photograph the garden at first light without another soul around.
The meadows stretched out before us like a tapestry with every button, spike and blade thrown into relief by the jagged and misty skyline just beyond.
In a city renowned for its architecture, the plants are architecture too.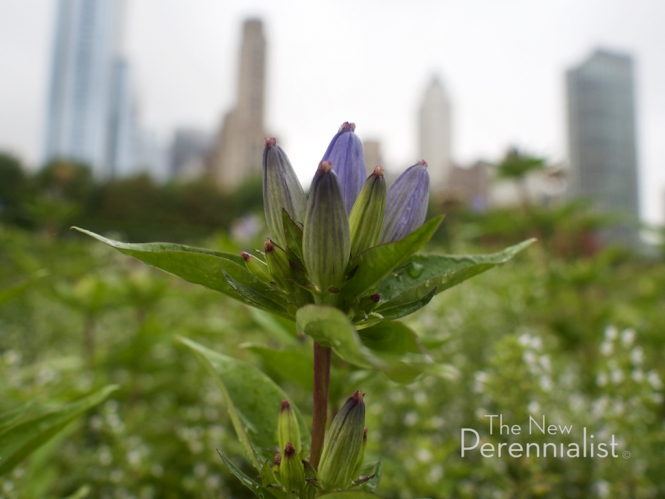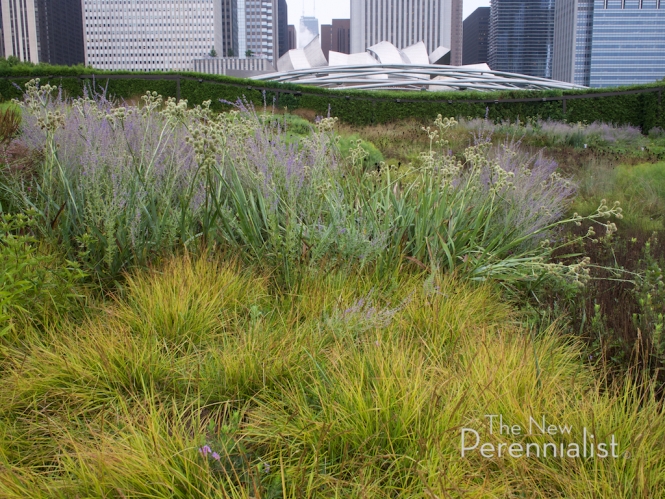 Ringed by its signature tall shoulder hedges, the inner garden has a quality of endlessness – accentuated by the steep shift in levels between the Light and upper Dark Plates, divided in the middle by a long wooden seam.
As it was late summer, the plantings were nearing their peak with pockets of bloom intertwined with silvery skeletons, and blackened seedheads floating amidst rivers of grass.
Taking in the scene with typical Dutch understatement, Piet winked, Looking good, eh?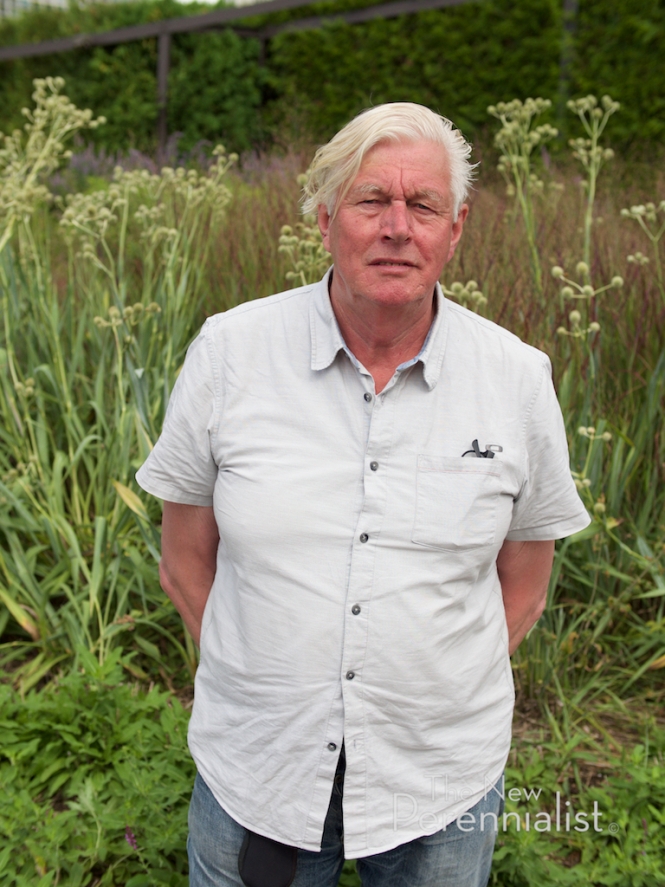 As I looked deeper through my viewfinder, every frame felt like an old master painting. And it reminded me of his home garden at Hummelo.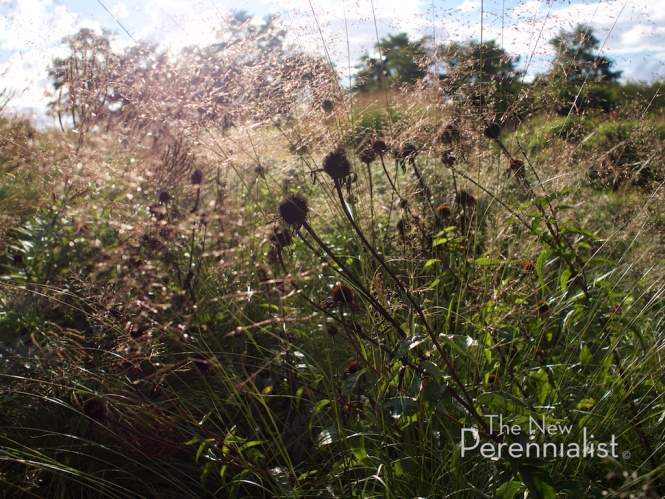 With the clouds rolling in, it started to rain. Piet and I ducked into a nearby café for breakfast and to talk photography. As we flipped through his latest iPhone shots of the garden, only the best of which he uploads to his carefully tended Instagram account, I could tell he never stops looking for the right shot.
Merely good is not enough, only great will do.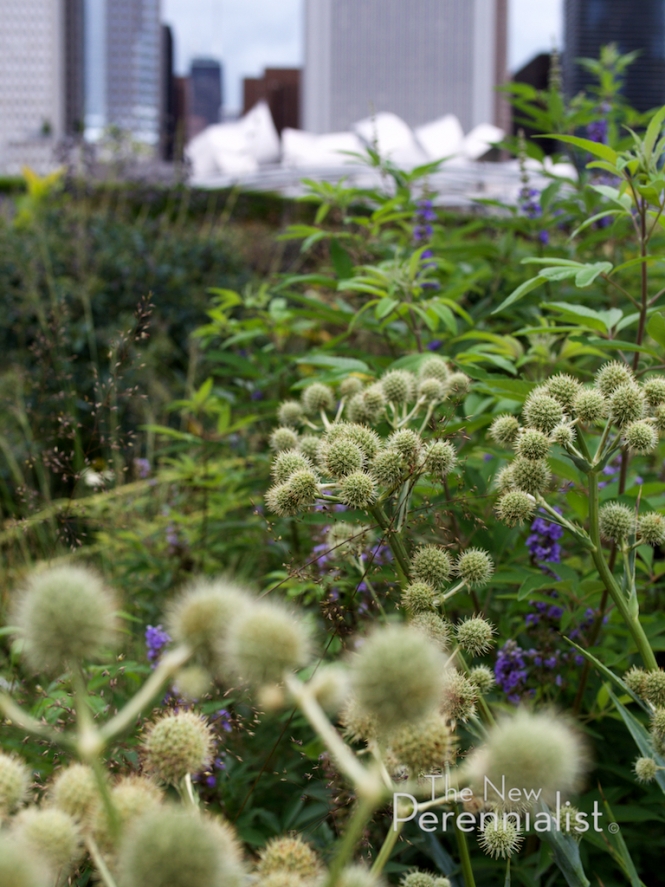 A glimpse behind the curtain
With the rain still falling, Piet and I returned to the garden and slipped through a gate into the large steel garden shed, which houses the modest Lurie offices.
I was delighted to sit down with Scott Stewart, the garden's ebullient Director and Horticulturist Laura Ekasetya, who quite amazingly oversees the entire garden with the help of eight volunteers enlisted from Melanie Scott and her 70-person strong volunteer army.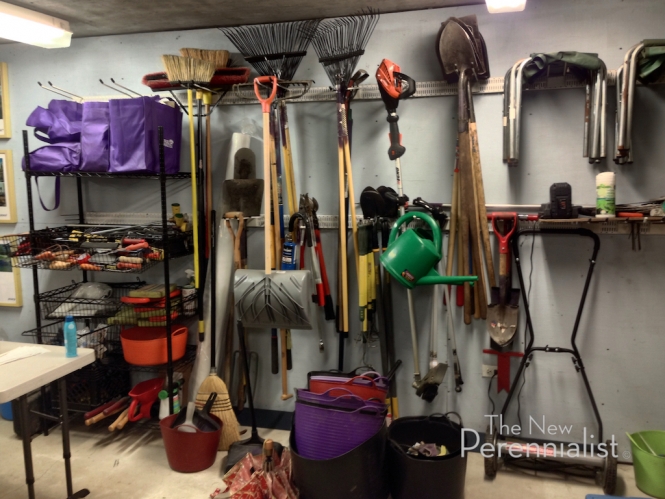 The Lurie folks radiate an ultra-keen passion for the garden and enjoy a great working relationship with Piet – with Laura skyping him regularly for updates. The Lurie credo ensures best practices for all maintenance: all organic and no chemicals.
Scott also brings his Ph.D credentials in ecology and horticulture into play to both archive the garden's history and to ensure that in the future, Piet's design intentions are forever respected.
Laura kindly brewed me an espresso while we sat and debated whether the New Perennial style could work for a smaller home garden. Naturally, I strongly believe that it could, starting with plant selection.
So far, it's Roy who's written the best guide on how to do it… but there are others, perhaps still waiting to be written.
When the weather lightened, they invited me to tag along for their second day to review the garden, the plantings in particular. I was quite happy to shadow and observe.
A river of blooms
We started with the signature Salvia River.
Comprised of four different Salvia cultivars, the river provides a defining moment for the Lurie in early June that's said to be visible from nearby skyscrapers.
Afterwards, however, it can look ratty – in a prime section of the garden no less.
The beauty of a perennial like Salvia is that if cut back after flowering, you can often get a second bloom in the fall.
Still, it's tricky in such a public setting. How much to cut back and do you treat each cultivar the same or differently? This past season, Laura and her team of volunteers tested every possible variation with Piet ultimately opting for a modest cutback to keep some interest going through the season.
There are also a few planting areas in a state of renewal (apparently, the Lurie rabbits love to chew Leadplant) while others have reached a point of optimal diversity and maturity.
Roy later pointed me to this corner of Liatris, Sporobolus, Echinacea pallida, Limonium latifolium, and Monarda bradburiana as a great example of mature planting.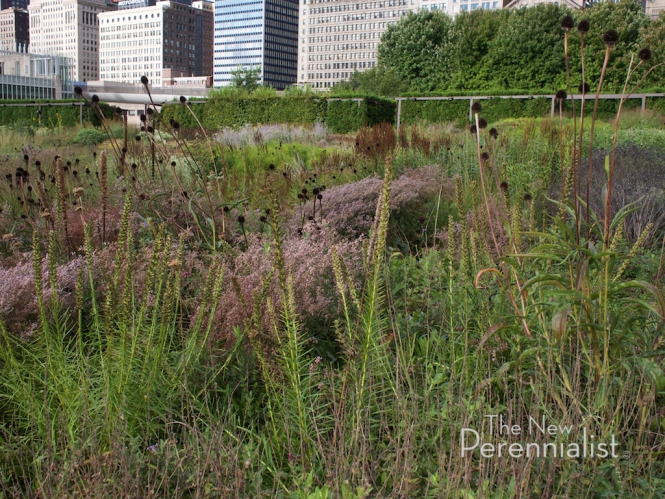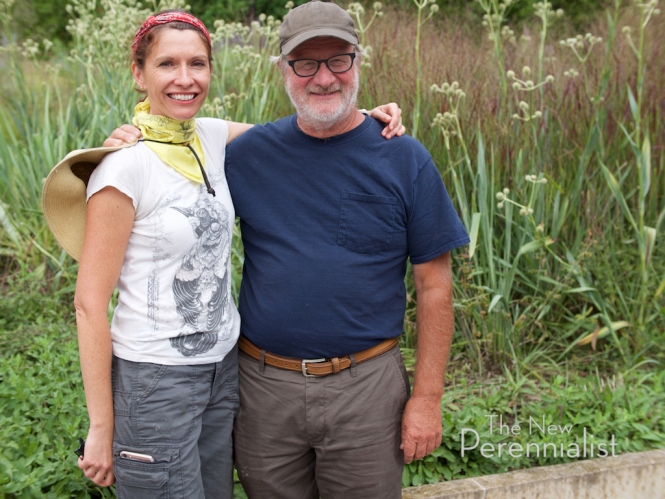 In fact, since the original planting of the Lurie, many species have shifted and reassembled to find their own best spots. Certain long-lived plants like Amsonia and Baptisia have held their position to provide continuity.
Interestingly, this dynamic ebb and flow of a true plant community is all part of Piet's design vision. The key is to manage such spontaneity with sensitivity and care – a valuable lesson for the home gardener.
Good relationships
At the Lurie, the curious gardener can study the plant palette endlessly for ideas. For me, it was a revelation to see the configurations up close and how they puzzle together into a living plant community.
As I learn more about the story of the garden's making, I see it's all about relationships – the kind between people and those between plants.
This comes out in Thomas Piper's new documentary as well. It was the act of meeting Roy that inspired Piet to expand his planting palette to embrace a new class of prairie plants and grasses, virtually unknown to gardeners and designers at the time.
These included more now familiar perennials like Baptisia, Pycnanthemum, Parthenium, and grasses like Panicum, Sporobolus and Schizachyrium. And of course, Piet continues to restlessly search for new possibilities.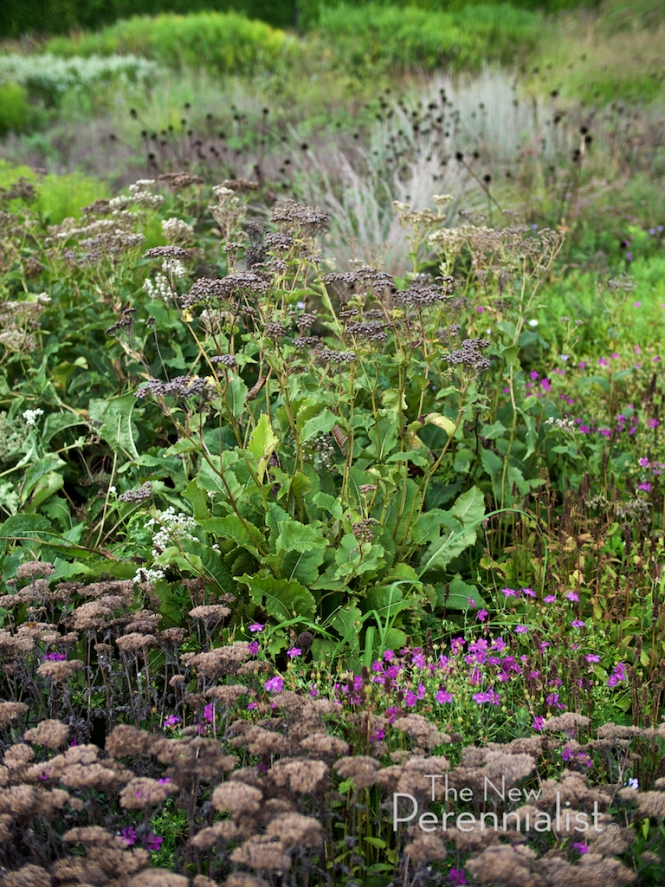 It's also Roy who grew and sourced the 28,000 plants for the initial planting of the Lurie. Critically, he advised that for the plants to thrive, they best use sandy loam from the Kankakee River floodplain, south of downtown Chicago. Once amended, this soil had the right level of low nutrient organic matter (3.5%) to offer a true prairie habitat.
From the start, the Lurie challenged preconceptions of what a public garden could be. Apparently, the initial public reaction was bewilderment. What sort of garden is this? Where are the roses?
But at the Lurie, planting design as an expressive art form clearly took a major leap forward. All hail the power of plants to win over hearts and minds in the public space.
Significantly and over time, the gardens have helped to open people's eyes to the deeper beauty of their own native flora in one of the most urban settings on earth.
What a sweet marriage of opposites attracting.
I'm thrilled beyond words to have finally experienced it for myself.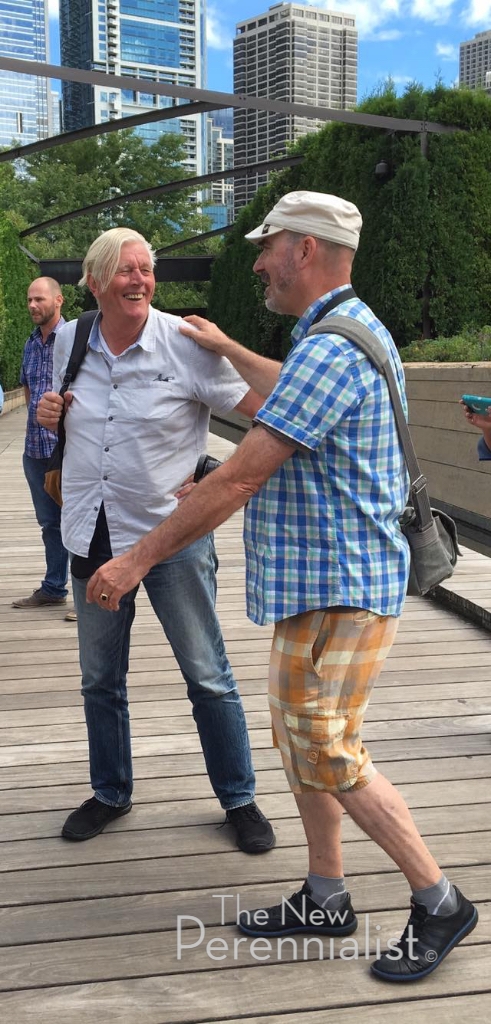 Direct from the source
Learn more about the Lurie Garden and the man behind the curtain in this gem of a short film by Tom Rossiter.
Hear more from Piet and Roy with the folks at the Native Plant Podcast recorded live at the Lurie.