I've been doubly spoiled over the past month by inspiring encounters with exceptional plantsmen.
First up, I reconnected with über designer, Piet Oudolf in the form of a two-hour transatlantic Skype call to Hummelo, which turned into a one-on-one masterclass in planting design.
This was followed by a three-day visit from American plantsman, writer, and prairie whisperer Roy Diblik, who came up from Northwind Perennial Farm to speak to the Canadian chapter of the Garden Writers Association at our annual meeting here in Toronto.
I've learned to never quarrel with serendipity.
These were two stellar opportunities to not only talk naturalistic planting and design with two of our greatest modern practitioners, but to simply commune as fellow biophiliacs with a kindred love for plants.
The conversations went deep. And it will take more than one post to cover all the points of epiphany.
The Joy of Roy
Roy Diblik is as kind-hearted a soul as ever I've met. With his soft gravel voice and Papa Hemingway beard, he shows a gentle reverence for plants as living beings with a deep sensitivity for how they grow as communities in the wild.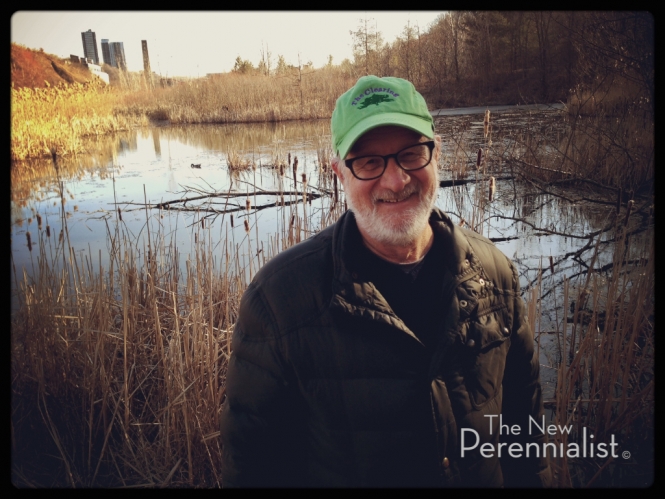 To hear him tell it, plants need each other to thrive and survive. They've evolved together over millennia, with much to teach us about coexistence, if only we learned to listen.
A natural plantsman for over 30 years, Roy found time to write The Know-Maintenance Perennial Garden (Timber Press) in 2014. A constant companion of mine, this book manages to bring the whole subject of planting design refreshingly down to earth.
He makes it sound simple, but his methods for habitat-based planting design and minimal maintenance are leading edge – inspired in part by the innovative Cassian Schmidt, Director at Hermannshof Botanical Garden in Germany.
I got to know Roy well on this visit… talking plants, life stories, Dutch garden hoes, our respective travels, friends, the finer points of planting design.
And without breaking a sweat on the day, he gave a funny, emotive, and quietly revolutionary talk to the writers about rethinking our relationship to plants and attracting new people into the joys of gardening.
With all this, I'm gutted to hear that Roy's house at the Northwind Farm recently burnt down. No one was hurt thankfully but this must be a shock. The nursery is set to re-open in mid-April.
I could tell that Roy possesses that rare ability to accept whatever happens in life. He sees the daily miracles most of us skip over. This quality of mind no doubt serves him well in times like this.
State of Piet
When I mentioned to Piet last month that I was busy working on the planting design for my future woodland garden, he kindly offered to help advise, should I need it.
It was an offer that was impossible to refuse. Thus the Sunday morning Skype call from Hummelo to discuss a set of detailed hand-drawn plans I'd scanned and emailed to him earlier in the week.
We ended up talking about far more besides – picking up where we left off on my last visit to Hummelo almost three years ago.
Gracious as ever, the first thing Piet asks about is myself: curious how I manage to stay so active on so many fronts in social media and elsewhere.
It's a balancing act for sure.
Hale and hearty at 71, Piet gives no sign of slowing down – with multiple design projects on the go at any one time, including three green roof projects in the Netherlands, a new botanical garden in Delaware, the list goes on.
As always, Piet does all the actual design work by hand – working alone in the white space of his modern brick studio at Hummelo – with his wife Anja running the show behind the scenes.
His love for plants, and genius for pushing the frontiers forward with every project, is gloriously undiminished.
Roy and I marveled at Piet's innate ability to encompass so many disciplines, a quality, which we figured made him the ideal person to lead this whole movement forward.
As Roy pointed out, Piet is an artist, designer, plantsman, iconoclast, photographer, a practical Dutchman with an outsized visual imagination.
He's what you might call a myriad-minded man (a term once used to describe Shakespeare.)
Unlike Will, Piet admits to being no man of words – expressing himself with far greater fluency in the visual language of his plantings. That's why writer Nöel Kingsbury has proven to be an ideal creative counterpoint.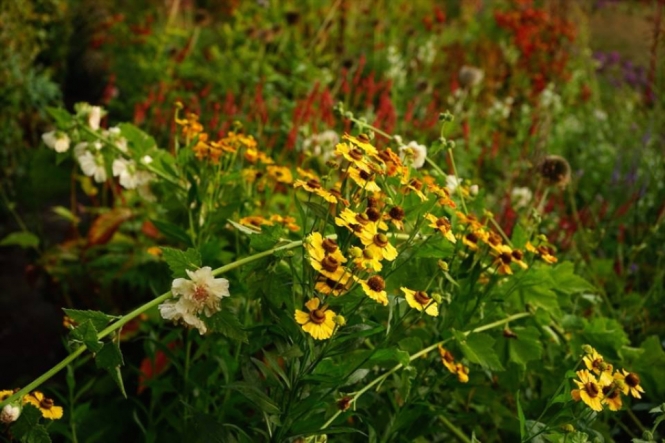 At this phase in his career, Piet has a mountaintop view of his unfolding legacy – the crowning impact of his public gardens on the public imagination and cultural zeitgeist, a defining oeuvre in the annals of modern landscape design literature, and the recognition of peers both at home and abroad. I sensed a deep satisfaction with how his various 'children' have turned out.
Even with all these accolades, I was almost comforted to learn he still gets a touch nervous when faced with the blank page of a new commission. Clearly with every project, he puts the pressure on to try something new.
Inner Circles & Inspirations
Piet noted that with my recent travels over the past year or so, I've now met many of his closest garden friends – an inner circle that includes Nöel, Cassian Schmidt and his landscape architect wife Bettina, as well as close American friends writer Rick Darke and Roy Diblik, amongst others (there's a whole British contingent I've yet to meet.)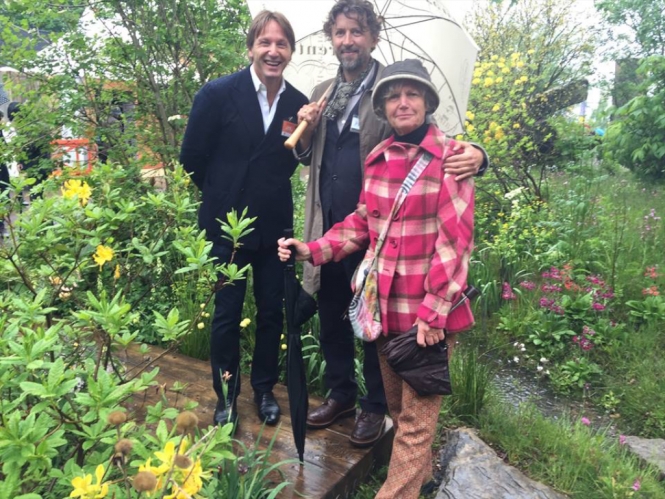 What they all have in common, Piet says, is a sense of kindness, not competitiveness – as each individual brings something unique to the group.
Indeed, their personal histories are much intertwined.
Back in 2002, when Piet was looking to source thousands of perennials for the vast Lurie Garden project in Chicago, he was told about veteran grower Roy Diblik, at Northwind Perennial Firm. They clicked pretty much the moment they met.
On a visit to the restored Schulenberg Prairie at Morton Arboretum, Roy introduced Piet to the full-on prairie experience. He noted how Piet teared up with emotion upon seeing natives like Baptisia alba in their native environment.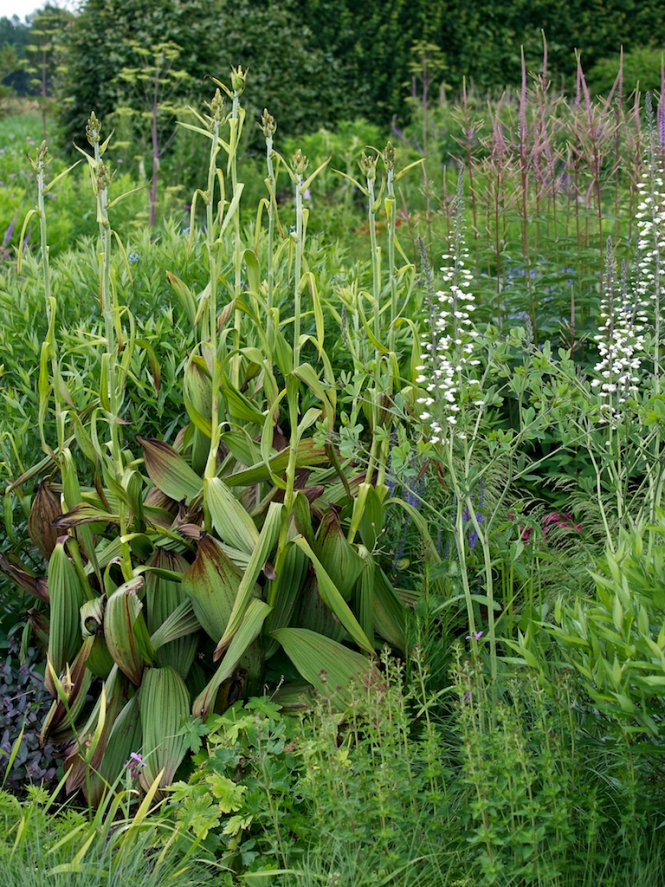 The visit inspired Piet to revisit his plans for the Lurie, a planting which now contains a far greater diversity of natives than most prairie restorations in the Midwest.
On a parallel path, Cassian's brilliant matrix prairie plantings at Hermannshof inspired Piet to elevate the concept with the High Line in NYC, and to rip out his front garden at Hummelo and create something different again.
Another long-time friend, Rick Darke influenced Piet to go wilder in his designs for the High Line. They happen to be now collaborating on a book on that same landmark project – due out next year on Timber Press. It's meant to be a companion of sorts to the magnum opus The High Line, by Phaidon Press, which presents more of the architectural perspective.
Portrait of the Artist
Piet and I time-traveled a bit during our Skype call where he reflected back to how his passion for gardening first came into being. Back in the day (early 1980s), he loved to travel to England to visit gardens – greatly admiring them for their images of horticultural perfection. And of course, he would collect plants from far and near as he went.
But it also inspired him to seek out the opposite – by introducing an element of spontaneity into his own work. And this led him to start experimenting with grasses and perennials like umbellifers to create a wilder, more natural feeling.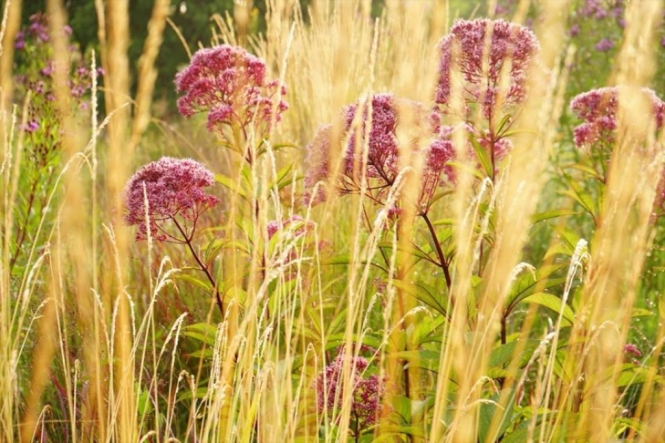 At this stage, his approach was highly visual and experimental – often with a very playful sense of what could work together.
It was the influence of friends like the late plantsman Henk Gerritsen that led him to discover and ultimately internalize a more ecological perspective in his own style.
Local to Global
For Piet, what started as a local phenomenon with the Dutch Wave with Henk and others, went global as the New Perennial Movement. Certainly, social media has proven to be a potent evangelical force in spreading its aesthetic and message to an ever wider audience (like Piet's Instagram posts and my group Dutch Dreams on Facebook).
Signature projects like the High Line and the Lurie Garden, Hermannshof, the London Olympic Gardens, to name a few, have defined the leading edge of what is possible in naturalistic design. And clearly, these gardens have the power to attract insects and humans alike to their nectar and beauty in equal measure.
This movement has formulated the means and methods by which we can create more practical, beautiful, and multi-functional gardens in coexistence with nature. And excitingly, there's a new younger generation ready to kick up the dust.
But as Roy Diblik says, this whole thing is just in its infancy – we're taking baby steps on our way towards a truly plant-driven future.
Learning the Curve
There's so much more to learn.
Piet stands uniquely aware of how difficult it is to design massive public projects on the scale of the High Line and the Lurie and to successfully manage their maintenance as they evolve over time.
This is a a regular part of his process as designer and overseer of these major gardens, checking in with the garden staff on a regular basis to evaluate and update the plantings where needed. He welcomes input from all members of the team but is the arbiter of any final decision.
He feels as strongly as ever that his work depends on gardeners. So much so, that when working on new commissions, he fits his designs to the projected level of maintenance. He knows for example, that a more straightforward block planting design is much simpler to manage than a complex ecological planting.
Conversely from the designer's perspective, Piet notes it's far more time-consuming to design a block planting (as per the image below) – like configuring a giant puzzle with 40 to 50 different kinds of plants – than drawing up a looser matrix-style garden, which he can do in a matter of hours.
Mind you, the matrix designs (like the next image) are far more abstract and difficult to decipher. That's a challenge I bumped into when working on my own matrix designs – how to make it legible.
Whether block, drift, matrix, ecological, seeded etc. Piet believes the future of planting design is about succession: allowing for how the planting will change and repopulate itself over time. That's the key.
Naturally, this requires a deep understanding of how plants grow both as individuals and within a greater plant community.
For many of us, the act of gardening is about control – coupled with a fear of losing it. Piet loves to experiment with the line between freedom and control – knowing when to allow things to happen or when to decisively intervene. It's a matter of creative and natural dynamics working hand in hand – something to which, we can all aspire in our own garden evolutions.
Deep food for thought. Stay tuned for my next post with the story of how Piet and Roy graciously advised me in the making of my own woodland planting design.
==
Note: Images where noted by kind permission Piet Oudolf, Adam Woodruff and portrait of Piet by Myriam Luyckx.