It's the movement that never stops moving.
Stepping into 2018, the New Perennial movement in naturalistic planting design continues to creep, climb, bloom, and seed its way around the civilized world all the way from Scandinavia and Eastern Europe to Canada, the U.S., South America, China, New Zealand, and beyond.
In every pocket, there's a growing convergence of design, ecology, and architecture along with a deepening sense of what is possible and why it matters more than ever before (i.e. the lopsided battle to restore quality of life for all species on the home planet.)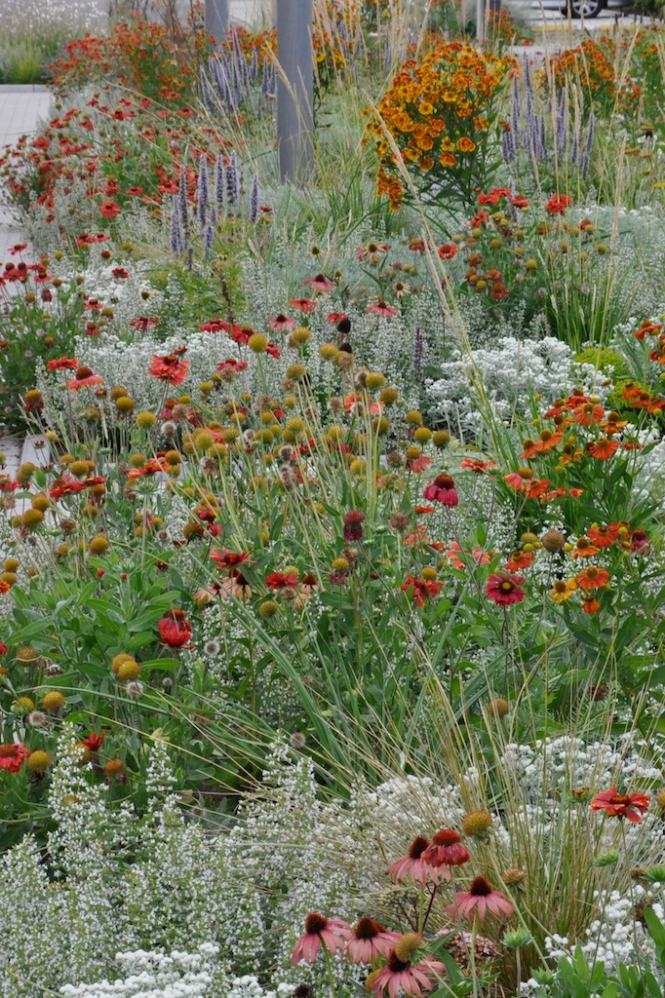 The core mantra of the movement remains the same: to plan, design, grow and sustain plant-driven garden environments for a multi-layered, year-round spectacle that feeds our souls, reconnects us to the natural world, and nurtures biodiversity all in one.
Is that too much to ask?
Viewed from my particular garden perch, here are some of the people, plants, and places set to keep shaking things up this year.
Seed Bomber
Professor James Hitchmough is the devil we need to know. A maverick Englishman clearly obsessed by ecology and horticulture, he brings a high voltage jolt of punk rock attitude to the frontiers of naturalistic planting design.
He now heads up the future forward landscape architecture program at the University of Sheffield. Here he's innovated a unique methodology for working straight from seed to create multi-layered meadow plantings with spectacular wow factor for people and biodiversity alike.
He frequently partners with other designers, most famously with Sheffield colleague Dr. Nigel Dunnett and Sarah Price, in their supercharged series of meadows created for the 2012 London Olympics.
Below is an outtake from Hitchmough's now mature vibrant prairie planting for the Oxford Botanical Garden.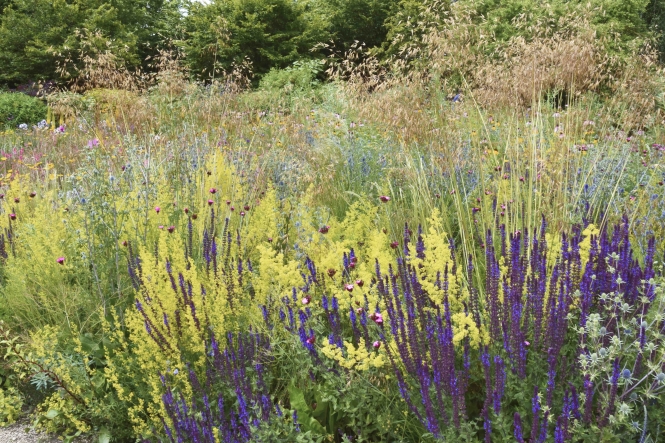 I caught the professor live in performance at the Klinta Conference in Sweden last fall where he took the audience on a wild ride through his signature biogeographical approach to planting design along with tales of horticultural obsession at his roof gardens at home.
He also made daring arguments for why English gardens are better for biodiversity than their Swedish counterparts. (Hint: It's all about the insane level of plant species diversity.)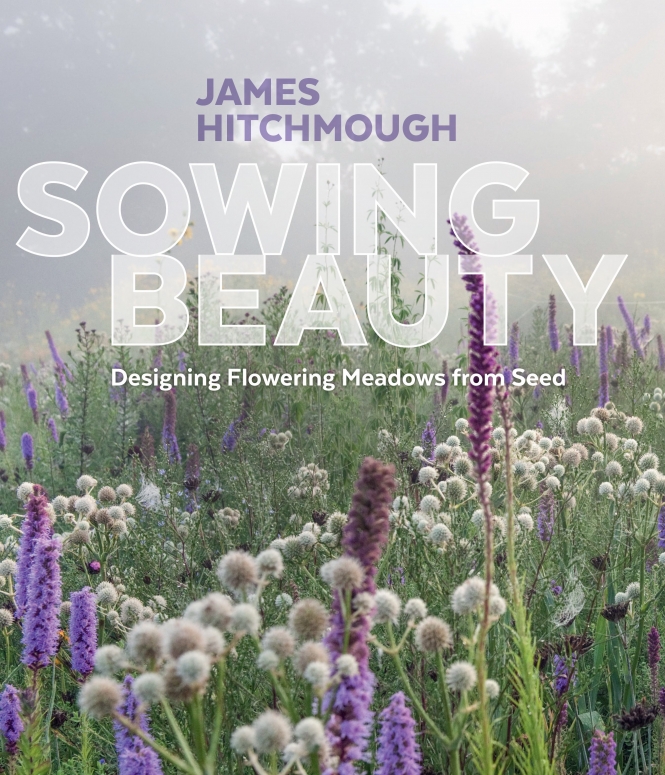 Hitchmough's latest bombshell is Sowing Beauty published in 2017 on Timber Press. Drawn from 30 years worth of research and practical field work, it takes you deep inside his thinking and practices, along with super clear instructions on how to DIY complete with detailed plant lists.
Critically, he walks us through real life case studies that show not just what worked, but what didn't. I'll be absorbing the contents of this provocative book and dancing with the devil for years to come.
Convergences
If our collective dream as designers and gardeners is to create thriving and sustainable plant communities, do we also need to nurture and sustain human communities of like-minded people to help make that happen?
I'm thinking a definite yes.
While social media has certainly revolutionized our ability to relate and form virtual networks, it's no substitute for bringing bodies and minds together in actual time and space.
Two years back, I drove all the way down to hallowed Swarthmore College outside Philadelphia for their legendary Perennial Plant Conference and it gave me a serious taste for how such events can open up your world.
Last fall, I upped the ante on a trip to Sweden for the three-day Klinta Conference in Urban Planting Design. The Scandinavian crowd might have been blonder and younger than Swarthmore, but no less impassioned. Klinta provided the opportunity to not only learn from some of the leading lights in design from Northern Europe and the States but also to meet and get a sense of them as people.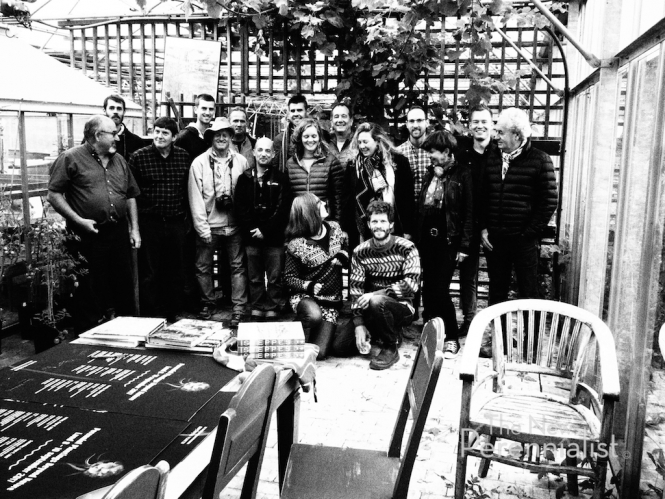 Major kudos to Swedish Planting Designer Peter Korn and his wife Julia Andersson who organized the event as a kickstarter to inspire and inform a new generation of designers in Scandinavia.
My thinking for the coming year is that such gatherings, large and small, are absolutely vital. They allow us to take the pulse of the moment, learn new methodologies, share war stories, and above all, to get beyond social media to intermingle with friends and strangers for real.
Ugly Duckling
It took a trip to Germany to learn about the design potential of Ontario native plant Agastache nepetoides or Yellow Giant Hyssop. It's not only rare but quite unappreciated here at home. Our local naturalists say: "Not prized for its beauty, it is a plant for naturalized gardens and pollinators. Research has shown this to be one of Ontario's top 20 plants for feeding pollinating insects."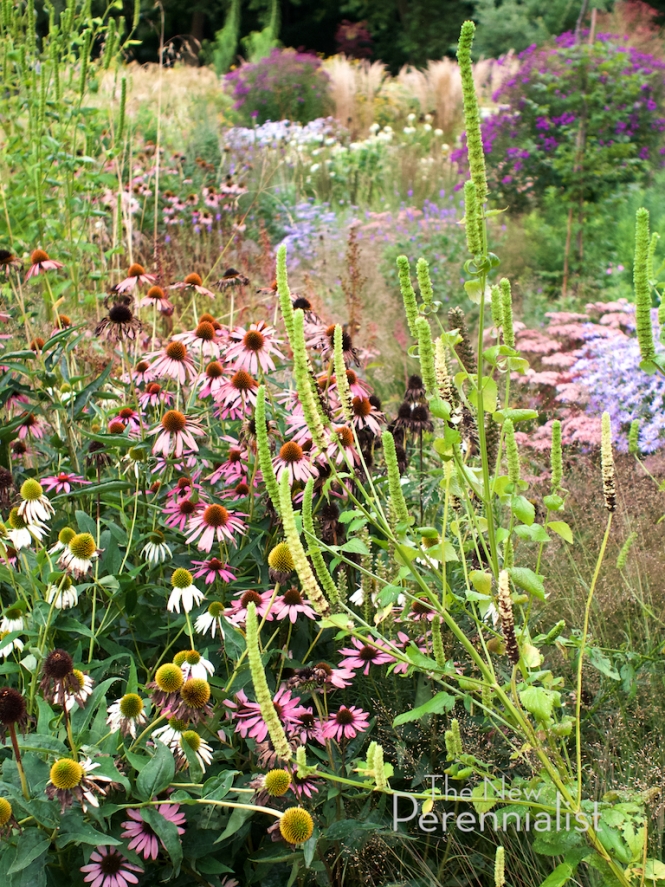 Clearly, beauty is in the eyes of the beholder. Growing anywhere from three to eight feet tall, this branching perennial arches towards the sun like a candelabra with flowering spikes that darken up in the fall. Of course, Piet Oudolf was onto it years ago, as you can see in this shot of his wild-ish meadow at Hummelo.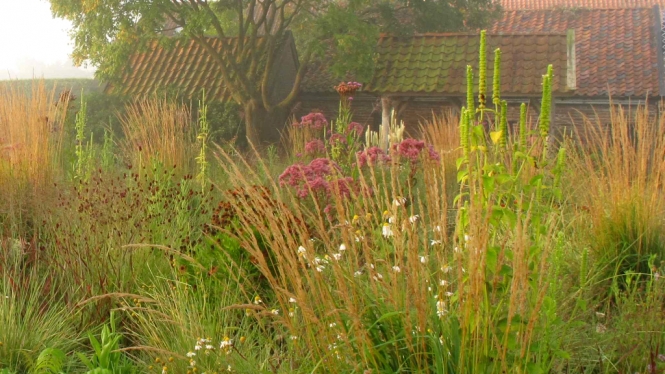 Good luck finding Agastache nepetoides at a nursery, better to go full Hitchmough and start this duckling from seed.
Phyto takes flight
Freshly launched in 2017, Phyto Studio aims to create ecologically designed landscapes for the American heartland and beyond. Phyto means plant in latin, and this new studio represents the next real-world chapter for Claudia West and Thomas Rainer, co-authors of the influential book, Planting in a Post-Wild World. Together with partner Melissa Rainer, they're on a mission to "harness the power of biodiverse plant systems to create resilient, emotionally-resonant landscapes".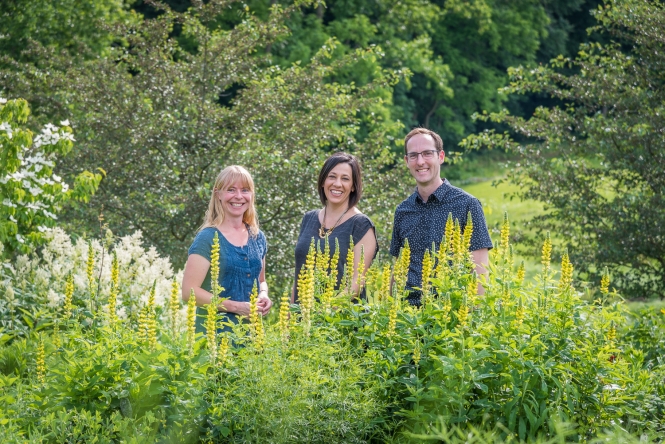 I heard Thomas speak recently in Sweden where he delivered a forceful plea for a green urban revolution along with exacting instructions on how we might achieve it. Partner Claudia West positively radiates plant passion and knowledge, garnered from seminal studies in her native Germany and experience at the amazing North Creek Nurseries. All three partners are landscape architects by training, so I'm curious to see how it all translates to real world projects.
Their first initial test is the design competition for the Philadelphia International Airport where they've augmented their team with the aforementioned Dr. Nigel Dunnett, and dynamic Dutch/American planting designer Carrie Preston.
Instagram vs. Facebook
Is social media getting more visual and less verbal? Perhaps so.
Garden lovers are increasingly drawn towards Instagram because of its purely visual nature. And yes, the non-stop scrolling of plant porn can be rapturous.
The legendary Piet Oudolf tallied up an extraordinary 178,235 likes from 49.8k followers in 2017 alone.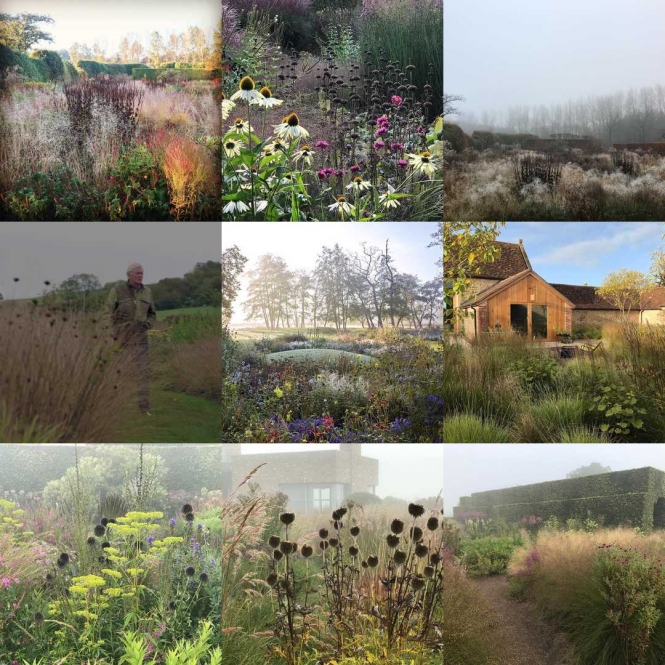 That said, I still like Facebook for the quality of discussions (when they're not busy screwing up their algorithms.) This past year we've seen some monster threads on our group Dutch Dreams, still an unparalleled resource for crowd-sourcing suggestions about design challenges and plant choices.
Of course, both Instagram and FB are owned by Zuckerberg and co., which enables them to put a stranglehold on the control and flow of content.
Overall, I see a shift to Instagram. Here are some of the fave accounts that keep me scrolling (BTW: you can find me @the_new_perennialist). Check out my new Top 12 on the panel to your right.
Piet's Progress
According to Piet Oudolf, they're having a real winter in the Netherlands albeit with a mix of snow and rain that flattened all the plants at his home garden in Hummelo.
No matter, he's now back in the States to rev up plans for his latest urban project on an island park in Detroit called Belle Isle. If ever there was a city in need of the master's touch, it's the Motor City. The project is creating a stir locally and you can track how the gardens will come into being on a dedicated Instagram account.
At 73 years young, Piet continues to be highly active with a raft of major projects in the U.S. and Europe. His latest book, Gardens of the High Line created with writer/photographer Rick Darke tells the gritty story of its industrial past, as well as the origins of naturalistic planting design, and how they both play into the design narrative that unfolds in each section of the park.
When it comes to accepting new commissions, I sense that passion is high on his criteria. He became involved in the design for the new Delaware Botanical Gardens purely on the basis of a random invite by American designer Barbara Katz on Facebook
Their team is now deep into the initial phases of the project with DBG Director Greg Tepper leading the charge.
This past summer, a dream team of design professionals assembled an army of volunteers to plant 17,000 perennials in the new prairie meadow with the remainder of the work to happen this coming spring (where fingers crossed I may be able to visit them.) Thanks to New York based designer Naomi Brooks, herself a regular on such projects who captured the dream team below.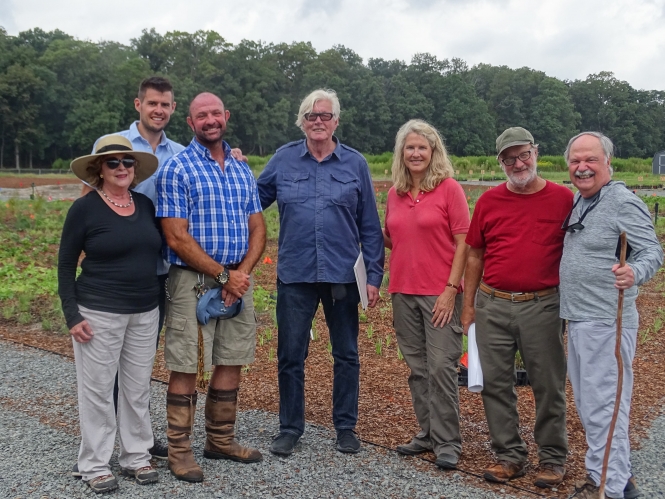 Plans for the garden are so intriguing that the local insect life is already checking it out.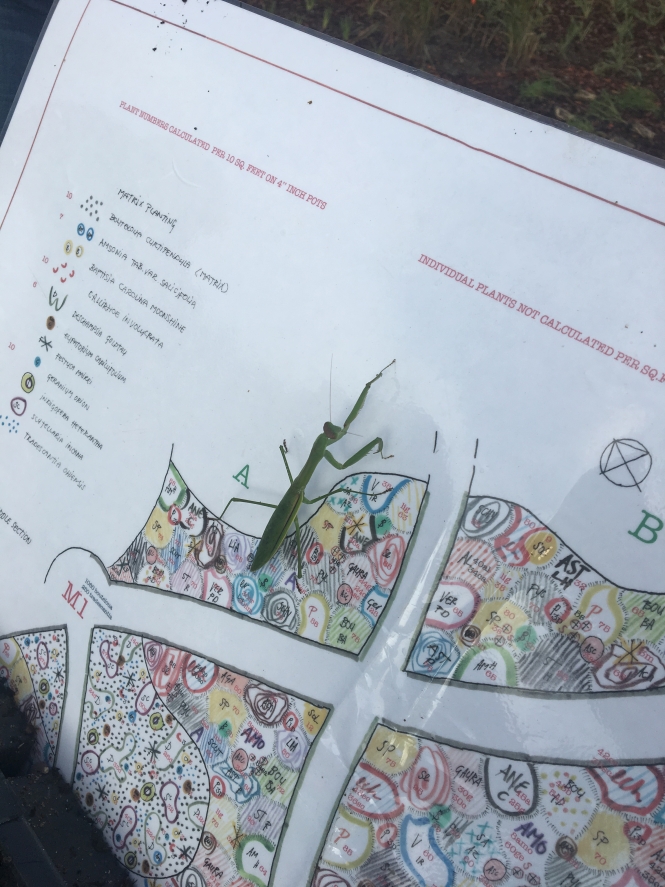 I'll leave the last word to Piet himself who in this short film by the Hauser & Wirth Gallery in Somerset England manages to sum up what this whole movement is about.
Here's to making 2018 another bold, brave, and visionary New Perennial Year.