It's a brand new year and already some things are getting old.
It's that special time when newspaper columnists and writers like to stir the pot with predictions of 'What's Hot & What's Not' for the coming year.
While they compile such trend lists for the world of gardening, I rarely pay attention because making a garden is really more of a long-term affair.
Coming into 2017 though, I've noticed a definite trend in the ether: A few garden writers have surprisingly declared that the New Perennial trend of naturalistic gardening along with its trademark use of ornamental grasses, is on its way out.
Is this true?

Have we base-jumped the Shark Week?

Are we just Scary Clowns Planking in a Mannequin Ice Water Bucket Challenge?
Since when is New Perennial planting design even a trend, I wondered? After nearly 15 years of growing into a worldwide phenomenon (not to mention tap roots going back to the 18th century), isn't it really at this point more like a movement?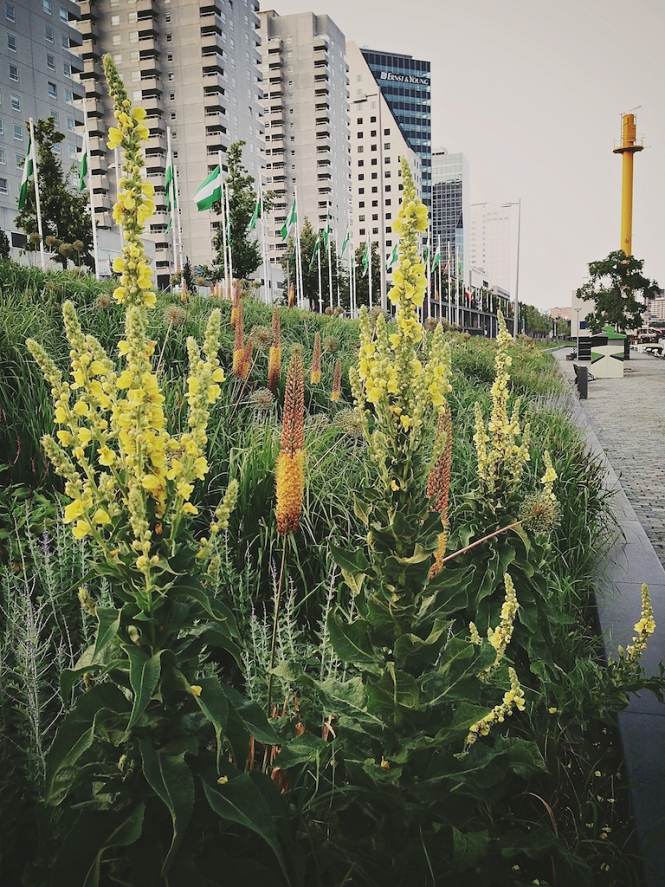 Well, everyone's entitled to his or her opinion and there's room in this world for every kind of garden – but surely, such bold assertions bear scrutiny.
Let's hear what a couple of garden writers have to say about this alleged shift, two in particular: one, a pedigreed Englishman and the other, a veteran columnist in my hometown of Toronto, Canada.
England ponders a Horticultural Brexit
The Telegraph's Tim Richardson is a leading voice in English garden design circles. I'm a proud owner of his seminal and weighty coffee-table book The New English Garden published in 2013 where he profiles an array of the country's seminal contemporary gardens, which often run to the hectares in scale.
Mr. Richardson sets the stage for revolt with a provocative and amusing 2016 article in The Sunday Telegraph that calls for a "Horticultural Brexit" for Britain to purge itself of outside European influences.
(BTW Tim. You got a message. William of Orange called. The Dutch want their topiary back.)
He waxes nostalgic for the time when England ruled the horticultural waves, which like The World Cup, hasn't happened for quite a while.
So, are these the new dark ages?
To the contrary, Richardson notes that over the past 20 years a flood of modern design influences have flowed into the U.K. from continental Europe to challenge and ultimately enrich what had become a somewhat tired home ground aesthetic.
Undoubtably, the primary influence has been the naturalistic approach of plant-driven design as practiced by Dutchman Piet Oudolf and his contemporaries.
It's true. Piet's first public project in England in 2001 at the Glasshouse borders at RHS Wisley proved to be the spark that shocked a nation of gardeners into trying something new, embracing a wilder palette of perennials and ornamental grasses.
Over time, the Brits made it their own. And meanwhile, Piet and the New Perennial style made the critical leap to North America, the High Line, and beyond – evolving as he went to become ever more adventurous and complex.
Now, over a decade later, Richardson tells us there's "a sense that English gardeners have become bored with the restrictive palette of New Perennials…"
So, in the question of a horticultural Brexit, is it better to leave or remain?
Hort Couture
For the "leave" camp, Richardson gathers perspectives from a more traditional set of English designers experiencing various levels of Oudolf ennui. Each in their own way are pursuing variations of an English "embroidered" approach to planting design influenced by the mingled drifts of Vita Sackville-West and Gertrude Jekyll with other spices thrown into the mix.
This sideways shift is nothing new.
Richardson himself presaged it in in The New English Garden, "It now feels as if the pendulum is swinging back towards a more traditional English model, with shrubs (roses leading the fragrant charge) making their way back into borders…"
I am struck by one common theme from the designers themselves in the Brexit lament. There's sophistication aplenty but also a preoccupation with plants as something merely decorative.
As delicious as that might be, they certainly stand apart from the naturalistic gardening ethos being practiced elsewhere in England, Europe, Russia, North America, the Antipodes, with a new generation of designers and gardeners looking for something deeper.
From this side of the Atlantic, they seem almost out of step with the decisive turn towards more ecological-based design.
Chacun à son goût, I suppose.
I'm intrigued and yet the Richardson article cuts short. We never hear the other side of the story from the more freethinking designers who in Brexit terms, would probably rather stay than go.
Where are the voices like cutting-edge designer, Tom Stuart-Smith who wrote previously in the very same newspaper an article entitled, "Dutch master: the garden design genius of Piet Oudolf. A new book confirms Piet Oudolf as the most influential garden designer of the past 25 years."
We can see by evidence of his work below what magic can transpire when the New Perennial influence is channeled by the English aesthetic.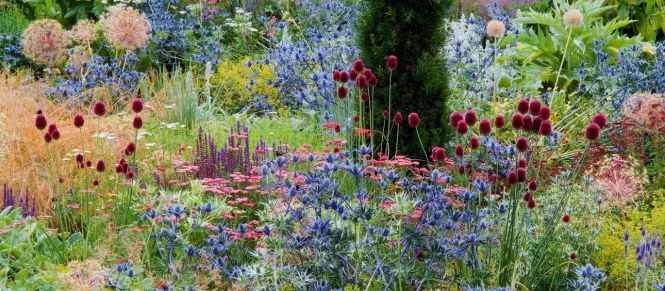 And surely there are more to European influences over the past 20 years than just one high-flying Dutchman? As a Telegraph reader notes:
"Richardson treats Oudolf as a synecdoche for all European designers, ignoring an entire continent or any mention of hotbeds of horticultural innovation like Germany."
You can scroll the list of designers in the column to your right to discover many more innovators from the continent.
Limitations aside, the article succeeds in provoking an interesting divertissement.
Across the Pond and Far Away
I realize Richardson's Brexit theory was meant to be a bit of fun on his part. But half an argument can be a dangerous thing.
Here in Canada, an old-guard local columnist named Sonia Day with The Toronto Star newspaper, trumpeted his article as her "proof" for a few full-blown garden trends to start 2017. And with England as the source, the news was irrefutable!
New perennials are out and dahlias, houseplants are in.

As Piet Oudolf's garden designs lose interest, people are turning back to old-fashioned perrenials. (sic)
She continues the theme, "Bye-bye Piet Oudolf. The heyday of the hottest garden designer on the planet seems to be over". She also predicts, "Onamental (sic) grasses are going, going, gone."
Bold assertions indeed (and even bolder spelling!) But is there any substance to these claims?
Oudolf on his way out
What's really up in England these days?
Well, the true barometer of gardening in the U.K. is probably the Royal Horticultural Society (RHS).
In fact, RHS Wisley, one of England's high temples of horticulture plans to rip out and replace the famous Piet Oudolf Glasshouse borders planted in 2001.
This is indeed a shocker.
So, who have they selected to design the borders for the next generation of gardeners?
Well, his name is Piet Oudolf. The RHS will soon announce when the new Wisley project is ready to break ground.
Next.
What designer and garden was featured in two leading garden magazines on both sides of the Atlantic at the same time in fall 2016? (The only designer I can think ever to do so.)
The answer again is Piet Oudolf. He appeared in feature articles both England's Gardens Illustrated and America's Garden Design. The garden of the moment is "Oudolf's Field" at the über chic Hauser & Wirth Gallery in Somerset, England.
On his way out? Looking a lot more like up to me.
Time for a new palette?
According to the Star article: Is the Oudolf plant palette "dull and too limiting" for other designers?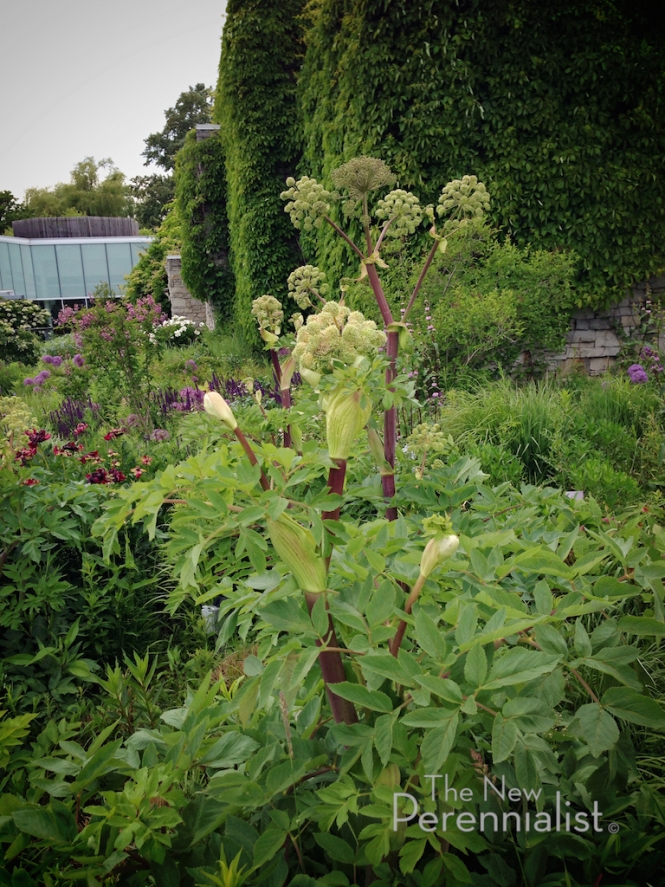 Is Angelica too archangelica? Are Picasso paintings too oily?
Well, consider that in a recent Dutch museum project, profiled in the January 2017 issue of Gardens Illustrated, Piet completely changed up his planting list to include a selection of esoteric annuals to mingle with the perennials. They needed the garden to look good fast for its opening and Piet was more than equal to the task.
Interestingly, his plant list included four different types of Dahlia. That's Sonia Day's must-have plant for 2017 – although Piet used it six months ahead of schedule. Roses are still not on the menu, however.
The greater point is that Oudolf could successfully design a garden with any number of different plants or palettes.
Could it be the other designers are the limited ones?
What about here in North America? Well, his marquee project – the NYC High Line now attracts 2.3 million New Yorkers every year. Surely it can't be dullness that has excited so many people (importantly including non-gardeners) to stroll and Instagram their way through the reimagined prairie and woodlands of North America's most visionary public space.
That's enough about Piet. I could go on ad infinitum.
Natural High
What about naturalistic planting as a movement? Is England ready to Brexit stage left?
Contrary to the thrust of Richardson's article, they're more like doubling… even tripling down.
On January 12, 2017, the RHS announced its plans for this year's Chelsea Flower Show to showcase, "innovative, sustainable ways to green up small urban spaces in a changing world". In no less than 24 gardens, the plan is to re-create UK scenes such as Yorkshire's coastline, the Norfolk broads, and Berkshire's endangered heathland.
The show will also feature "naturalistic re-imaginings of the lakes and forests of Canada, the landscapes of Malta, the Caribbean, Spain, China, Japan".
Canadian lakes and forests at Chelsea? How supernaturalistically cool is that.
Brit designers gone wild
Flashback to Chelsea 2015 and it was Englishman Dan Pearson who literally pushed the frontiers of leading-edge British planting design to an all new high. You could hardly get more naturalistic than his Gold masterpiece that literally transported a rocky chunk of a country estate to the show grounds complete with strips of "wildflower pizza" to perfect the natural look.
Or maybe you could. The radical frontier for ecological planting design is thriving at the University of Sheffield in the work of Professors Nigel Dunnett and James Hitchmough. Dunnett takes the lead in this year's Chelsea as the designer of the 2017 RHS Greening Grey Britain Garden.
Along with Piet, all these designers are white hot on my radar; here are two titles due to come out soon on Timber Press: Sowing Beauty by Hitchmough and Gardens of the High Line: Elevating the Nature of Modern Landscapes by Rick Darke and Piet Oudolf.
Watch this space for reviews sometime soon.
Snakes in the grass
What about ornamental grasses? Are they really on their way out as claimed by Sonia Day?
Not by a longshot.
I did a little digging to discover that the top-selling group of perennial plants in North America for 2016 was none other than ornamental grasses.
What about here in Ontario? For that, I asked Mark Vanderkruk, President and Director of Perennial Operations of Connon Nurseries (NVK), one of Canada's largest wholesale plant growers for the industry perspective.
Vanderkruk reports that in the past 2-3 years, their commercial sales of ornamental grasses have grown by an astonishing 75–80 per cent.
BTW: Another myth exploded. Grasses come in every shape and size to fit any scale garden. And the vast family of grass-like plants known as Carex (Sedges) is only starting to make its presence known.
There are opinions. There is amusement. And then, there are the facts.
On the basis of the latter, I must respectfully inform his Lordship and Lady Brexit, please don't expect us to set back our horticultural clocks any time soon.
I leave the last word to an exemplary writer, who in his book The New English Garden, clearly saw both sides of the issue:
"Gardens burst the boundaries of art, science, craft and hobbydom (as well as social class, on occasion), often to the chagrin of the guardians of those particular bailiwicks. The irony is that increasingly these other art forms and genres have begun to reflect the cultural craving for a more meaningful relationship with the planet, placing an environmental or ecological understanding of the world at the heart of creative thinking."

Tim Richardson
Postscript: A Social Media Debate
When The Toronto Star published the Sonia Day article, their intent was doubtless to stimulate discussion and stir debate. Ironically, they do not allow commenting on their web site.
I chose instead to link the article to Facebook enabling dozens of designers and gardeners from all over the world to chime in and have their say. I invited the author to debate the topic, but there was no reply.
I'll let the Facebook comments speak for themselves. You may not agree, or even 'like' some of these comments (sorry in advance if any folks were a touch flippant in their response). I nonetheless encourage you to be open to the debate, and by all means, share your own thoughts here on my blog:
FB Comment #1: Scott Hokunson – Landscape Designer, Simsbury, Connecticut
This feels oddly like a parody of our recent election, where one person is pontificating on how great things will be when we turn back the horticultural clocks, while the majority of readers are asking "WTF are you talking about?"
__
FB Comment #2: Joshua Revert – Garden Maker/Artist, Portland, Oregon
"It seems as of one of the emerging garden trends of 2017 is the opinionated English garden enthusiast. Based on the reality of the environmental and financial changes we are living in… ecological emphasis in planting design is going nowhere."
__
FB Comment #3: Hanna Mierzejewska Packer – Garden Designer & Instructor at the New York Botanical Garden
"How can one take this article seriously, if they cannot spell the word perennial properly."
__
FB Comment #4: Carlo Gabriele Callari – Landscape Designer, Italy
"I don't think that the Oudolf's style will ever die: he brought the use of Perennials into the XXI century. At a certain stage it will evolve into something else that suits that particular moment, but his idea of giving a value to plants in the 4 seasons is too revolutionary to just move on. This from a designer point of view."
__
FB Comment #5: AS – Gardener, Toronto, Ontario
"What a vitriolic tempest in a teapot! Sonia Day is a columnist, not a reporter. As such, she expresses her opinions about a variety of garden-related topics every week."
(Ed: Thanks for the inspiration on the post title!)
__
FB Comment #6:Barbara Katz – Landscape Designer, Washington, D.C.
"Good questions Tony. I hope she responds and we can observe a lively debate !"
(Ed: So far. Crickets.)
__
FB Comment #7: Alys Cambray – Garden Designer, Salisbury, England
"With respect, Sonia Day, if you are not interested in paying attention to the thoughtful responses from both sides of the fence, generated by Tony Spencer's posting of your article, then I fail to see why I, or anyone else, should be interested in clicking on any of your promotional links. :-)"
__
FB Comment #8: Matt McMillan – Garden Designer, Greenwich, Connecticut
"This is the second or third article/blog post I have seen recently making the exact same point: "New Perennials Have Jumped The Shark." And it has only now occurred to me that the authors are simply following the Donald Drumpf marketing strategy: Say something most people will disagree with. Two weeks later they will have forgotten what you said, but they will remember YOU.
The most attentive following for garden bloggers and journalists is made up of garden designers. I know a lot of them. The next one I meet who believes that New Perennial gardens are on their way out or that ornamental grasses are passé will be my first."
__
FB Comment #9: Janet Davis, Photographer/Blogger, Toronto, Ontario
"That's the beauty of gardening, there are as many 'looks' as gardeners. And chaos is fine, if that's your thing, but this kind of Oudolf border is 'refined chaos', paying attention to seasonality and structure. Piet's gardens are mostly public, and intended to show off combinations of plants that have been trialed and chosen for the way they contribute to a sum of parts. A cottage garden – or what I think of as an 'English cottage garden' – is not substantial enough for prime time in a public garden.
__
FB Comment #10: CG – Gardener, Somewhere, Ontario
"I don't like Piet Oudolf's style of gardening. He may be a very lovely person, but I don't like his designs. That's my opinion and my prerogative; clearly there are others who love his style. That's the way it should be. One of the things that I love about gardening is that it embraces all – no matter where you're from, no matter what your economic circumstances or your cultural beliefs – we all throw ourselves into gardening and, for a while, achieve a state of détente, celebrating our similarities rather than harping about our differences. Everyone who has written here is passionate about gardening – obviously. If we weren't, why go to the trouble? My concern is that this devotion to a certain style – denigrating all others (please read your own replies to many of the offensive comments here) is reminiscent of religions that believe that they are the only true religion and that anyone else is a heretic. We all know how that ends."
__
FB Comment #11: Nicole Marillier – Lagny-sur-Marne, France
"I can't understand how somebody can say "I do not like Oudolf's style", seeing how his style has evolved since his beginning making gardens ! Regarding "trends" in the gardens, this is, to my opinion, mainly for those who see their garden as an extra room to the house …. every year you got the Pantone's colour choice for the year, then the "observatoire des tendances" in France, then some plantspersons turn crazy about this or this and all the magazines start showing the "this" and asking you how the hell you managed to live without it ….. the "this craziness ends after years, and what ever the real interest and quality of the "this", it disappears from the garden centers …. this is not gardening, to me !
__
FB Comment #12: Scott Weber – Plantsman/blogger, Portland, Oregon
"I sort of think there are a lot of people (maybe even this writer) who just like to be contrary. They find something and take the opposite view just to feel original and special. The beauty of gardening is that while there are definitely "fads" and prevailing regional aesthetics, there's usually never any over-arching, prevalent global dogma of any one design style…they can all be valid expressions of a gardeners personality. I honestly don't know if the NP style has ever really gained much following in the PNW, but I've said I'm hopelessly un-stylish anyway…so that's ok."
__
FB Comment #13:David Wraight – Landscape Designer, U.S.
"In a sense Sonia Day is right. The evolution of style is unavoidable. Styles and people come and go. It's just the personal bias in her article, which is somewhat unprofessional. The excessive and overly extended idolisation of a particular style or individual is not desirable in any of the arts and crafts. It is counterproductive in the long term…
Where she is dead wrong in my opinion, is the resurgence of Delphiniums, Phlox, and over hybridised plants that are perpetually prone to diseases that require regimes of noxious chemicals to maintain them. Notwithstanding the labour in staking, weeding etc. In this respect The sustainable movements initiated by the likes of William Robinson, Karl Foerster, Wolfgang Oehme, Piet Oudolf, and others, will endure in one form or another. We are in the age of sustainability by necessity."
__
FB Comment #14:Naomi Goodman – Landscape Architect, Seattle, Washington
Grasses are like red lipstick to me. There's a type and color for every mood, every person! You'll never get me without either one! 😉
__
FB Comment #15: Anonymous, Canada
"i didn't want to chime in on your post re: perennial grasses are out (WTF) but did want to say thanks for calling that out!! Why would people even promote that?! It's like saying margarine is coming back into popularity… ugh."
__
FB Comment #13:Linda Hostetler – Landscape Designer, Springfield, Virginia
"As artists we learn to 'steal from the best', and certainly there is a wealth of techniques to learn from our horticulture teachers, but in the end, studying a space and letting it teach you what it wants gives you the best results. I honour anyone, designer, grower, installer, teacher, poet, who helps infuse passion and a love for earth into the process of creating and nurturing gardens."
(Ed: Hallelujah. Something we can all agree on. Elegantly stated.)