Up in our neck of the northern woods, you catch the first signs of spring in the mosses on the forest trails. On a dank cloudy day, they appear to glow like emerald velvet clouds come down to earth to hug the rocks.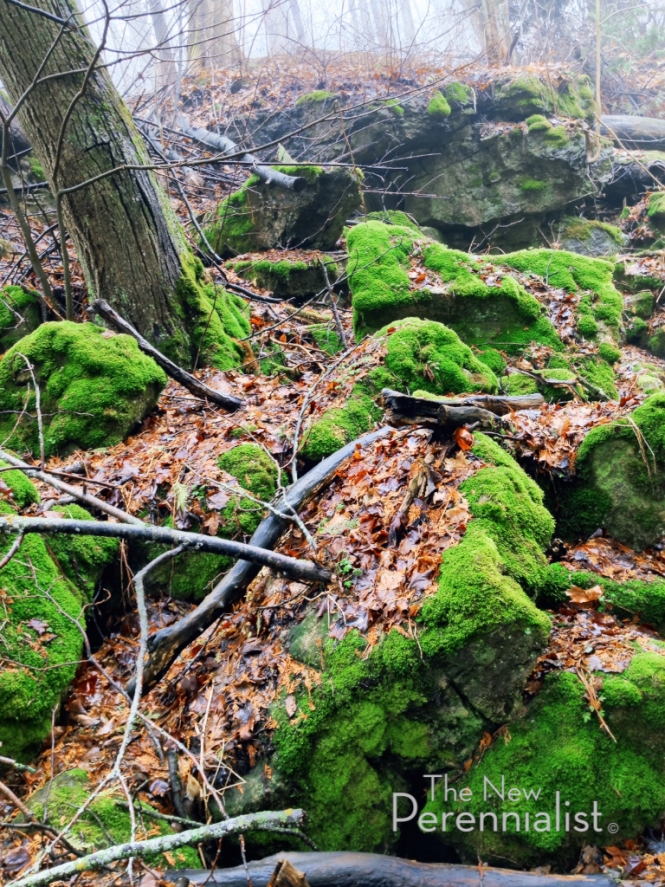 By the time you hit mid-April, life has erupted in micro with the first ephemerals and sedges poking their heads up from the tapestry of the woodland floor.
It's an absolute thrill to experience the first spring in my still-new pond garden. I'm as goofy as a young parent staring through the maternity ward window – searching for the newborn perennials to emerge from the soil, fingers crossed that they survived the soggy winter intact.
So far, looking promising. And yes, nothing says perennial spring like the crisply folded origami of a young Veratrum nigrum;-)
I note that our one-acre pond typically floods its banks with the spring run-off. And when I arrive for the Easter weekend, the edge of the garden is submerged under a few inches of water. Hopefully, the bog plants and ferns there will take it in stride.
Vespertine
Tonight in the rain-swept dark, I traipsed out with a flashligh to explore the vespertine world of the garden. The ground comes alarmingly alive as scores of fattened pink worms squirm and slurp out of sight the moment the beam of light hits them.
Spring peepers are chanting in a high staccato, and there's the invisible drumbeat of wings as wood ducks cruise in for a midnight water landing.
I hear a big wet splash right off the nearby bank, followed by an even louder slap in the water. I'm almost certain it's a beaver warning me off. Not the best of news for a pond gardener.
Meanwhile, I get right down to soil level where tiny spiders hold court in the leaf litter. Above it all, perfectly camouflaged in brown, a noble toad sits like buddha placidly surveying the soil horizon. I leave him to do his hunting and turn to watch the stars.
Breaking silences
After a period of winter quiet, my blog is also stirring back to life. But I've been madly busy in the interim doing everything but post.
In the offline world, I spoke at big seasonal hort events like Canada Blooms, did another sold-out workshop at the Toronto Botanical Garden, and wrote a lead article on naturalistic design for Canadian magazine GardenMaking set to be published in mid-May.
Whew! I'm on fire these days – all to keep spreading the word of the naturalistic garden.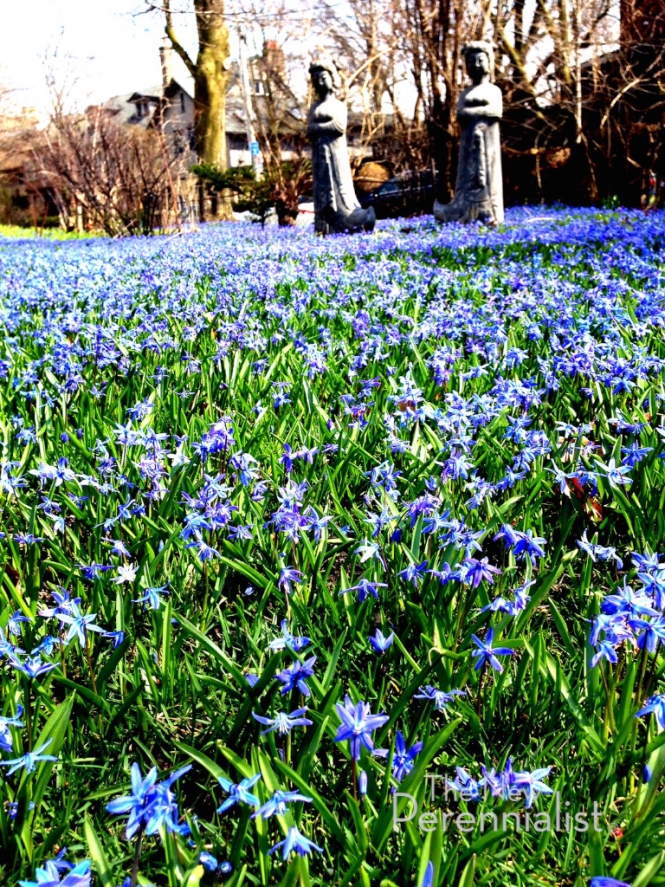 The timing is auspicious with the zeitgeist hitting an all new high. I take great joy (along with a measure of self-torture) in the serious challenge of explaining the essentials of new perennial planting design to the uninitiated.
It makes me question everything I know in the search for better answers.
Later this spring, I'm plotting out an upcoming series of blog posts to take you on a kind of journey of the genre. It starts in mid-May with an overall introduction to the naturalistic ethos and contemporary methods followed by explorations into the cutting-edge as being currently practised in Europe.
Stick around, things are going to get good!
Red Umbrellas
In parallel, I'm traveling to Montreal later this week to speak at the Dorval Horticultural and Ecological Society and then in June, I fly out to the West Coast to speak at the Victoria Hardy Plant Society Study Weekend. Madly popular with a hotlist of local and international speakers, it's already sold out. For me, it's a long-awaited return to Vancouver Island where I hung out one lovely winter in the rain forests as a post-grad bohemian.
In the meantime, I still have much planting to do to finish up the initial incarnation of my pond garden. I've spent the winter amassing an Armada of plant plugs and unusual perennials that can only be sourced by seed.
We're making plans for a whole other dry sunny prairie garden up near our almost renovated cabin.
That's it for now.
I hope all is wondrous in your own garden, as we fall in love all over again with the romance of a new world rising.
Here's proof this love affair never ends, courtesy of my 92-year old English mum's latest painting. Although Joan has lost much of her vision to macular degeneration and she holds the paintbrush with a trembly hand, it doesn't stop her from still reaching for beauty.
So may we all.